The Business APAC Security Guardians of 2019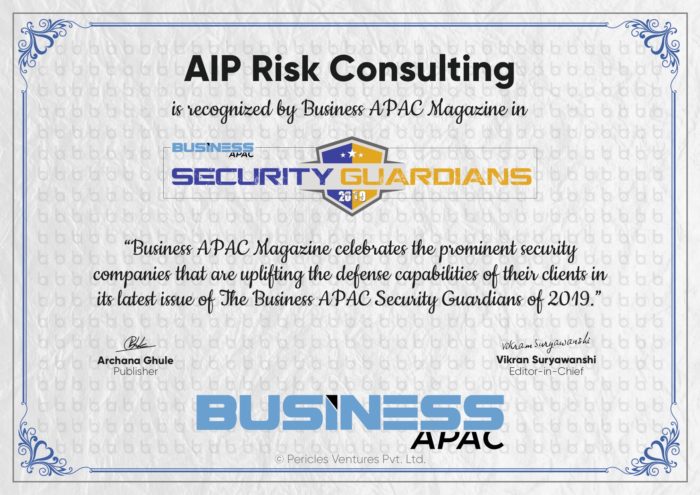 AIP Risk Consulting: Designing Resiliency And Reliability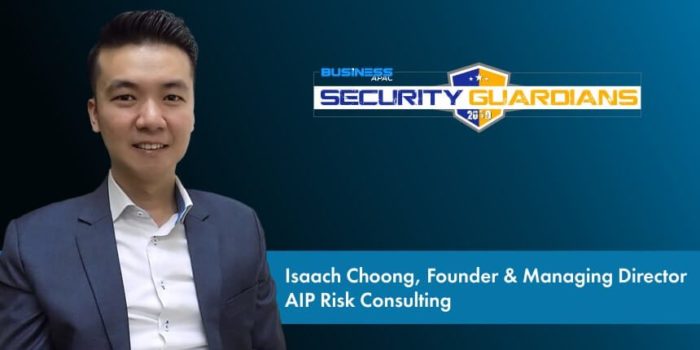 At present, new technologies are surfacing the security industry. However, in most of the developing nations, security is still a labor intensive task. Therefore, human errors like lower effectiveness, ignorance, complacency etc. are common. Such mistakes can be reduced by the effective use of technology, which will further aid humans in the course of their duties. It will also reduce the reliance of companies on manpower, which will help to streamline the security process.
The AIP Protection and Assistance of Security for Clients
AIP Risk Consulting Pte. Ltd. (AIP) is a global security and risk consulting services firm that assists clients to develop resilience to security risk and business risk for their assets, infrastructure, facilities, organizations, and personnel.AIP stands for Asset & Infrastructure Protection, which is what this company aims to offer to its clients.
The increasingly challenging international business operations have made it essential to secure the businesses from operational and technology risks. To minimize disruption to businesses incurring consequences such as losses of life, intellectual property, physical assets, and reputation, leaders need to be aware of the presence of any business risk by identifying threats or their causes. They can do it by evaluating the effectiveness of existing control mechanism, analyzing the damages/ impact, and using semi-quantitative risk assessment approach. Therefore, to secure clients' infrastructures and assets, AIP offers security services including Threat, Vulnerability and Risk Assessment, Security-By-Design, Blast Effects Analysis, Security System Design, Project Management, and Security Audits. The leading security service provider has in-depth expertize in providing fully integrated end-to-end solution using technological, physical, and procedural measures to prevent emerging threat occurrence and mitigate risk exposure. It has been offering these solutions to wide range of businesses including Hotel, Commercial Buildings, Shopping Centres, Substations, Power Plants, Data Centres, Rail and Bus facilities, Hospitals etc.
Fast Growth in the APAC Region
In late 2017, AIP Risk Consulting Pte Ltd made a successful transition from a local setup to a regional provider of quality security and risk consultancy services by expanding in Asian countries like Malaysia, Indonesia, Hong Kong & the Republic of China (Taiwan). Later, it continually improved its solutions and secured clients in the Kingdom of Bahrain & the United Kingdom. This rapid expansion and developments helped AIP to be named as a competitive solutions provider in the Smart Resilience report. This report assessed the resilience of Critical Infrastructures and AIP was featured along big security giants including AECOM, BAE Systems, Honeywell, IBM, Kaspersky, McAfee and Thornton Tomasetti. Further in 2018, AIP partnered with PECB, a leading education and training service provider on international standards to offer the best practices of these standards to its clients in Singapore. These wide ranging security solutions and coverage are an outcome of continual efforts from Isaach Choong, the Founder and Managing Director of AIP Risk Consulting Pte. Ltd.
Founder's Journey of Uplifting AIP from a Startup to a Reputable Player
Isaach knew that an unwavering determination is essential with exceptional skills and experience in the industry.To fuel his determination to succeed, he took inspiration fromagreat military strategist—Sima Yi and followed his perseverance and achievements.
In the early days of AIP's establishment,the prime challenge was to build a good reputation and popularity in the sector for improving client approach. Therefore, in the first year of inception, Isaach and his team of AIP greatly worked towards branding and market positioning. This strategy helped his venture to gain a significant recognition and increase the client base in the industry. After a year of aggressive strategies and branding efforts, Isaach and his team of dedicated members have succeeded in securing contracts close to a million dollars. Isaach considers this as a small achievement and is aiming bigger, because, according to him, Data Centre industry has been blooming since last 5 years, and its growth in the Asia Pacific markers are heavily fuelled by the proliferation of the Cloud Storage industry. Therefore, it is essential for security solution providers to focus on cloud security and data centre security. Additionally, Isaach predicts that Data Centre industry will be at the forefront to make security investments for this year.
Forthcoming Expansion Plans with Great Ambitions
Four years after its incorporation in Singapore, AIP Risk Consulting Pte. Ltd has grown by leaps & bounds. Today, it generates approximately a third of its revenue from overseas markets. Furthermore, AIP is currently focussed on expanding its offices in the neighbouring countries andplans to obtain two thirds of its revenue from overseas markets by 2021.Looking to the future, the team of AIP believes that there is a suitable market conditions with room to develop in Singapore. Therefore, it will use this opportunity and strive towards developing affordable and effective security solutions to clients. In addition, the company has a keen interest and is working on some key strategies for expanding to overseas regions including Middle East, East Asia, South East Asia,and Europe.
The tenacity and foresight of Isaach and his team has brought AIP to a reputable position today. They will be leading it forward with set priorities like business sustainability, employee development, and market expandability in the present and coming years to see as it one of the most recognisable leading security and risk consultancy firms in the world.
Reference link: Business APAC